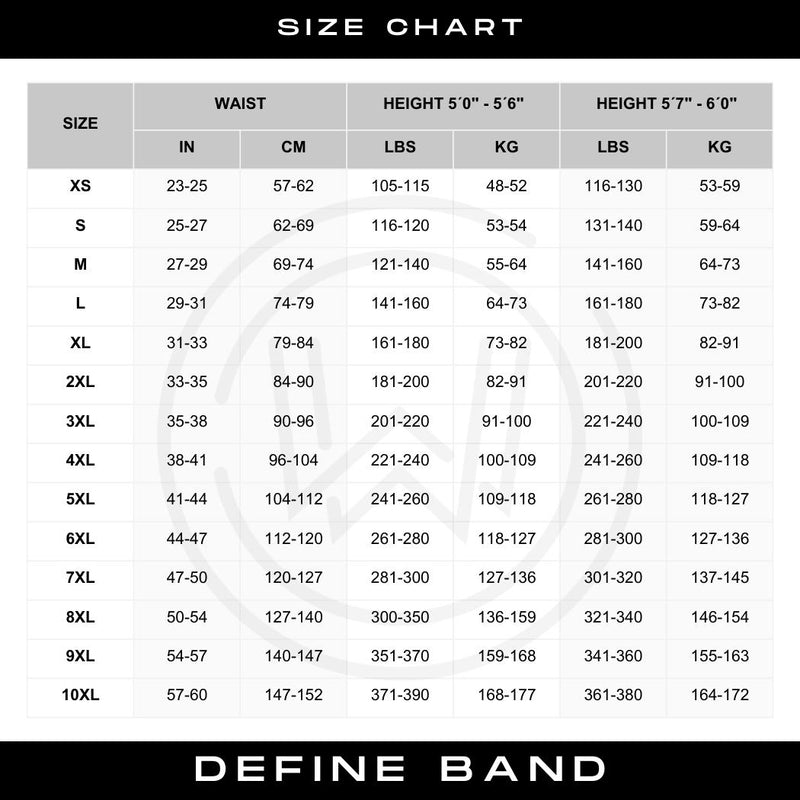 Each product has its own unique size guide located on the product page. We cannot guarantee at 100% that the size will work for you however we do have a 95% accuracy when using our size guides.
Please Note
Due to the nature of the materials we use, our sizes may not match your typical sizes. It is important to input the most accurate information. Our size chart is based on average sizes for height and weight. The Define Bands run small so the size given may not be the size you expect.
Still Not Sure?
If your weight is towards the end of the weight range, choose the next weight range up.
Use the size chart to find the best size based on your height and weight. It is important that you use your current body weight.
If you are still not sure if the size the product size guide is giving you is correct, please read the following articles for differing body types. 

Instructions for Putting On Your Define Band


Step 1
Wrap the band around your waist at the smallest part of your midsection, generally around your belly button area.
Bring the two ends together and ensure the zipper is connected properly before you start zipping.


Step 2
Once the band is around your belly button, connect the two sides and begin to pull the zipper up.
Pull the bottom of the band down after zipper is all the way up.





Step 3
Secure the velcro straps after zipping. Do not overly tighten straps.
The straps should be left undone and open, or removed, when doing abdominal exercises.
We have a 30 day exchange policy if you have sizing issues.
• Most people start seeing results within two weeks or more.
• Two Removable and Adjustable Velcro compression straps
• Latex and cotton design
• Zipper fastening
• Sweat-wicking
• Back support
• Pair with any Daily Wear band for best results


HOW IT WORKS:
Proven to get faster results during workouts with our science-backed, SweatTech™ technology which: boosts sweat production and provides support and compression while increasing intensity.
MATERIAL:
Features our specially designed, sweat-wicking latex exterior, cotton interior, a zipper-fastener, and a velcro compression strap that adjusts as your waistline reduces.

SHAPING LEVEL:
Medium Shaping

Inside: 96% Cotton, 4% Spandex Outside: 100% Latex

PRODUCT CARE:
To maintain the quality and strength of the materials, we recommend hand washing this item with mild soap in warm water. Air dry garment by hanging or lay flat to dry. Do not bleach, do not iron.
What Waist Has Been Featured On
Customer Reviews
Write a Review
Ask a Question
Filter Reviews:
vest
size
back
waist trainer
weight
straps
results
material
stomach
Size chart
23 Oct 2023
CacaoSugar

United States
If you this size, Get this size!
So . Love it period, just like everyone else. One thing I wanted more of was details on sizing. I'm 238, 5'10, 44F. Sizing tool told me 4x and that's what I got. And yes, it fits! I could've got a 5x for some wiggle, but I'm glad I got the 4x. I would NOT size down. And my titters looking like I paid somebody to put them up there. Pow!
Thank you so much for your honest review. We are happy that you are enjoying the product:)
14 Mar 2023
Jailah M.

United States
PERFECT!!
Super great for working out, coverage was amazing, I downsized and it fit well material/ design is firm
Thank you for your review! We truly appreciate you taking the time sharing your experience.
20 Jan 2023
Tempestt

United States
Love my new define vest duo
I got it today and it was easy to put on and make me feel so good in it ! I look slimmer already just putting it on. It feels comfortable as well. I will come back in a few weeks to follow an update on it. But so far I'm in love. Hopefully I see results soon enough! Size 4x
Thank you for the honest review and for choosing What Waist to be a part your journey.
18 Jan 2023
Tanya R.

United States
The Real Deal
I Love my Waist trainer. It's great to work out in and produces a lot of sweat, good sweat. It helps you feel like you are getting the most out of your works outs. It made with good material. It not going to rip or tear. It holds you securely. I recommend 10 to of 10!!! Oh and be sure to go by the sizing chart and size UP one or two sizes. I'm normally a size 3X & the Sizing chart provided sized me at 5-6X so I got my shapers in 8X and they fit as they should.
Thank you for the positive and honest feedback! We truly appreciate it as well as your support.
23 Nov 2022
Abigail Q.

United States
Excellent product
Very good. This item has physically changed the appearance of my body. I used it 6 days a week while i work out and around the house. I have had this product before over two years ago and it did the same thing. Very useful. Extremely comfortable when worn properly