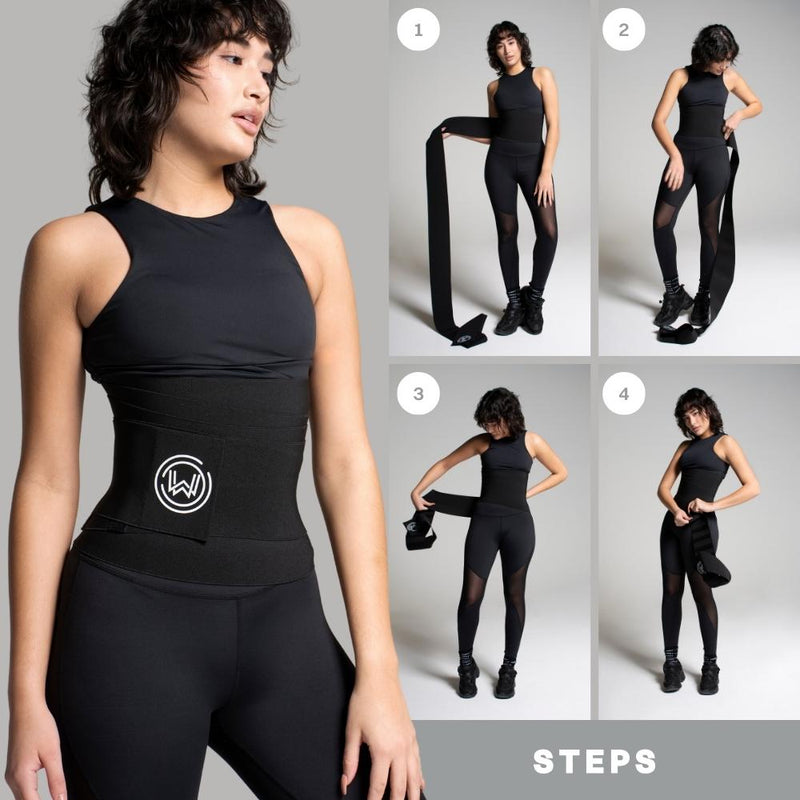 SHAPING LEVEL
Adjustable Shaping

HOW IT WORKS
Proven to get faster results during workouts with our science-backed, SweatTech™ technology which: boosts sweat production and provides support and compression while increasing intensity.

USE
Use for additional support, improvement of posture, and light to medium compression for waist shaping. Can be used post pregnancy, and may help with diastasis recti. Ask a doctor before using. May help reduce waist size over time with consistent use. Comfortable, breathable for all-day wear under or over clothing. Can be worn during exercise.
 Postpartum Benefits 
Compress and support your belly, waist, and hips by wrapping to your desired level of compression.
Helps to strengthen core muscles that can be weakened during pregnancy.
Promotes mobility, helping you get back to taking care of your new baby.
Eases back pain by offering abdominal support.
Encourages better posture, this is especially important during breastfeeding.
Helps improve diastasis recti by physically bringing the abdominal muscles back together.
Works to help assist recovery after C-section or virginal birth.
Helps firm skin and reduce skin sagging.
For Use During Pregnancy
Designed to provide targeted support and compression to your lower back and pelvic area, reducing pain and discomfort while improving your posture and balance.
Suitable for a wide range of activities, from running errands to daily activities.  
PRODUCT CARE
To maintain the quality and strength of the materials, we recommend hand washing this item with mild soap in warm water. Air dry garment by hanging or lay flat to dry. Do not bleach, do not iron.

MATERIAL
Built with our proprietary Polystretch™ material, these bands contour your abdomen and deliver the ultimate hold that gives you your most flattering silhouette instantly. This breathable multilayer woven technology is soft on the skin and naturally cooling, perfect for everyday wear. The best part, it's undetectable under clothes!
What Waist Has Been Featured On